RV SPOTS GO ON SALE January 15th - AND MUST BE PAID IN ADVANCE Call Steve @ 909-868-8761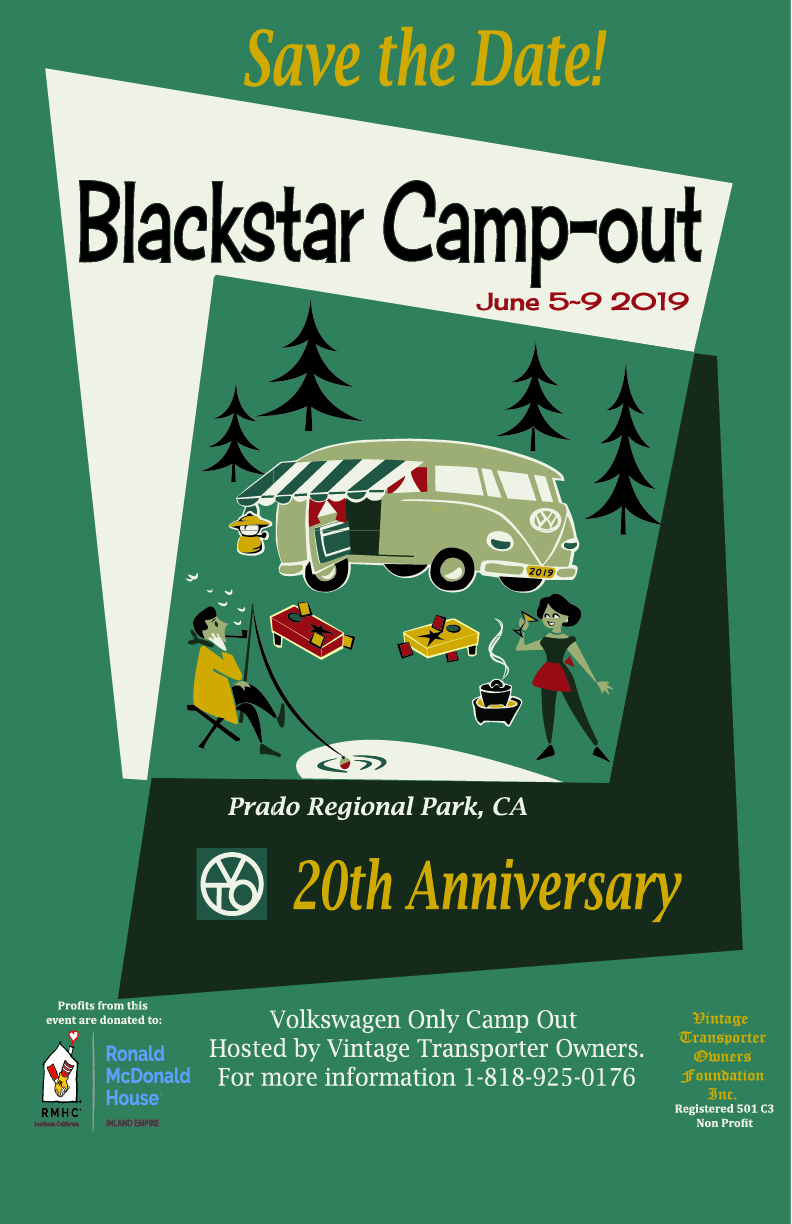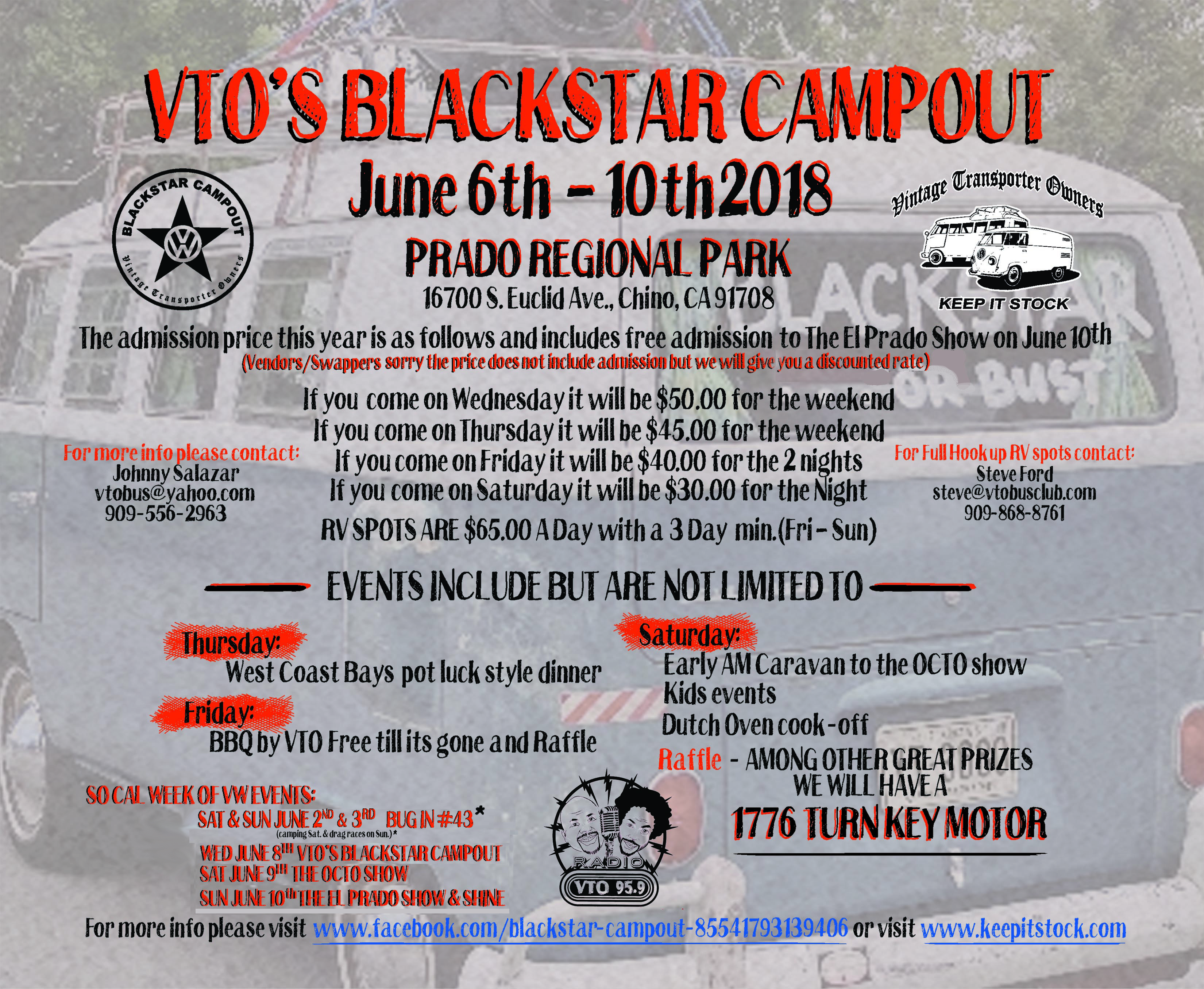 VTO'S BLACKSTAR CAMPOUT AT
PRADO REGIONAL PARK

Address: 16700 S. Euclid Ave., Chino, CA 91708
Dates are June 6th – 10th 2018

The admission price this year is as follows and includes free admission to The El Prado Show on June 10th (Vendors/Swappers sorry the price does not include admission but we will give get you a discounted rate)
• If you come on Wednesday it will be $50.00 for the weekend
• If you come on Thursday it will be $45.00 for the weekend
• If you come on Friday it will be $40.00 for the 2 nights
• If you come on Saturday it will be $30.00 for the Night • RV SPOTS ARE 65.00 A Day with a 3 Day min (Fri – Sun) RV Sites will go on sale the day after Buses by The Bridge and will be a min 3 day stay Fri- Sat-Sun check out is end of day on Sun.

EVENTS INCLUDE BUT ARE NOT LIMITED TO:

Thursday: West Coast Bays Pot Luck Dinner, Please if you can bring a dish ... it is not required though.

Friday:
BBQ by VTO Free till its gone and Raffle

Saturday:
Early AM Caravan to the OCTO show
Dutch Oven cook-off
Pot Luck dinner (please bring a dish to share)
Raffle- AMONG OTHER GREAT PRIZES WE WILL HAVE:
-1600 TURN KEY MOTOR

For more information please contact:
Johnny Salazar: vtobus@yahoo.com – 909-556-2963
Stan Ford: stan@vtobusclub.com - 909-709-1269
For Full Hook up RV spots contact:
Steve Ford: steve@vtobusclub.com - 909-868-8761


So. Cal Week's of Event's
Friday June 1st Just Cruzin So Cal VW Club Cruise Night at Burger Town USA 760 N. Archibald Ave Ontario 91764 starts at 6:30pm, great food, clean VWs and music. Bring the whole family for a relaxed good time!
Saturday June 2nd -Sunday June 3rd Kuhltek MotorWorks Presents the Bug-In 43 Camping Saturday, Drags on Sunday Visit Http://Bugin.com for More Info

Wednesday June 7th VTO presents Black star Camp-Out at Prado Regional Park (same as show location) Come and camp out and stay for the car show Sunday!

Saturday June 9th OCTO pre 1967 VW Bus show in Long Beach. Huge caravan leaving the Black Star camp out.

Sunday June 10th El Prado VW Show & Shine at 5am!
Visit our Facebook Page and follow us to stay up to date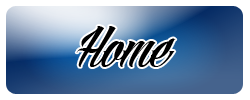 We would like to thanks our Sponsors ... remember to support those who support you